WE ARE CARING BREEDERS OF THE RARE ABSOLUTE HAIRLESS DON SPHYNX AND PETERBALD CAT. OUR PRIMARY AIM IS TO FURTHER THESE BREEDS AND PRODUCE HEALTHY DISTICTIVE ANIMALS ABLE TO PRODUCE THEIR YOUNG WITHOUT DIFFICULTY. WE HAVE OUR OWN DISTICTIVE FOUNDATION LINE WHICH WE HOPE WILL LEAVE OUR BREEDER IMPRINT ON GENERATIONS TO COME.
OUR SEVEN DIFFERENT BLOODLINES COME FROM RUSSIA AND THE UKRAINE.
VEIW OURS CATS ON ANIMAL PLANET'S "CATS 101"http://animal.discovery.com/videos/cats-101-donskoy.html
THESE ARE THE Russian Hairless feline breeds called the "Don Sphynx" & "Peterbald". We are Extremely proud of these Russian Breeds and those Russian breeders who made these breeds possible.
SLEEKATS CATTERY and RESCUE
SOLID COLORS : White, Albino, Cream, Red, Black, Blue, Lilac, Cinnamon and Chocolate (brown)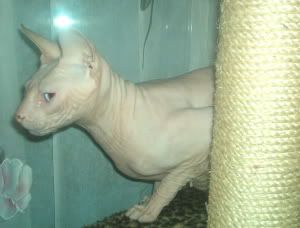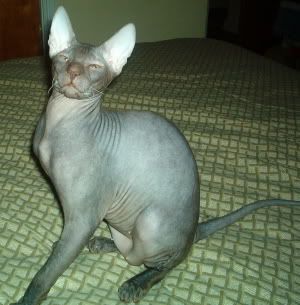 POINTED PATTERNS : with vivid Blue eyes
Seal Point, Chocolate Point, Cream Point, Blue Lynx Point, Fawn Tabby Point, Tortoiseshell Point & etc..
CLASSIC TABBY, MACKEREL TABBY, SPOTTED TABBY& PATCH TABBY PATTERNS : markings clearly defined on legs. Pattern tends to fade on Adult hairless body and are called "Ghost Markings".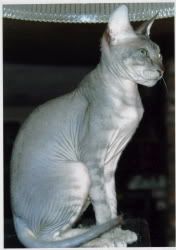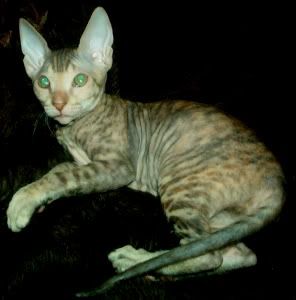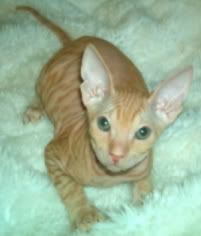 Newborn extremely RARE Classic Tabby "Sleekats Scotty" at birth and Scotty at 12 weeks of age.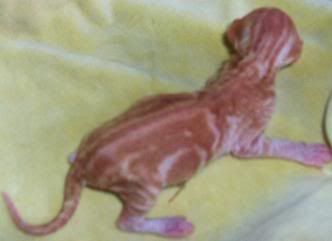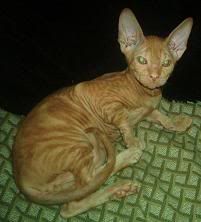 Red Spotted Tabby picture at birth
Sleekats Dante
TORTOISESHELL & TORBI : black, cinnamon or chocolate and/or patched with red and/or cream. Blaze on face very desirable. *TORBI is molted or patched with tabby markings.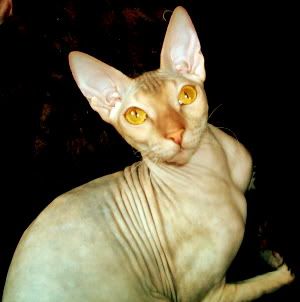 * COLORS INTENSIFY WITH SUNLIGHT. CAT SUN BATHING HELPS IN KEEPING DARK COLORS AND DARK MARKINGS IN THE SKIN OF THE HAIRLESS CAT